AwG-H Series
Made in the USA
Also available in Marine Series AwG-HM
AwG-H1*
Peak Power:  1.2 kW
Humidity Range: 40-100%
24hr. Capacity: 14 Gallons
Liters: 53 Liters
Height: 19″ | 48 cm
Width: 24″ | 61 cm
Length: 33″ | 86 cm
AwG-H2*
Peak Power:  2.3 kW
Humidity Range: 40-100%
24hr. Capacity: 28 Gallons
Liters: 106 Liters
Height: 19″ | 48 cm
Width: 24″ | 61 cm
Length: 34″ | 86 cm
AwG-H3*
Peak Power:  3.5 kW
Humidity Range: 40-100%
24hr. Capacity: 42 Gallons
Liters: 156 Liters
Height: 40″ | 102 cm
Width: 40″ | 102 cm
Length: 42″ | 107 cm
AwG-H5*
Peak Power:  5.8 kW
Humidity Range: 40-100%
24hr. Capacity: 70 Gallons
Liters: 265 Liters
Height: 44″ | 112 cm
Width:  44″ | 112 cm
Length: 48″ | 123 cm
AwG-H10*
Peak Power: 11.7 kW
Humidity Range: 40-100%
24hr. Capacity: 140 Gallons
Liters: 530 Liters
Height: 69″ | 175 cm
Width: 44″ | 112 cm
Length: 55″ | 140 cm
AwG-H15*
Peak Power: 17.5 kW
Humidity Range: 40-100%
24hr. Capacity: 210 Gallons
Liters: 795 Liters
Height: 70″ | 178 cm
Width: 48″ | 122 cm
Length: 58″ | 147 cm
AwG-H25*
Peak Power: 28.2 kW
Humidity Range: 40-100%
24hr. Capacity: 350 Gallons
Liters: 1,325 Liters
Height: 74″ | 188 cm
Width: 48″ | 122 cm
Length: 60″ | 152 cm
AwG-H50*
Peak Power: 58.3 kW
Humidity Range: 40-100%
24hr. Capacity: 700 Gallons
Liters: 2,650 Liters
Height: 74″ | 188 cm
Width: 48″ | 122 cm
Length: 60″ | 152 cm
AwG-H80*
Peak Power: 84 KW
Humidity Range: 40-100%
24hr. Capacity: 1,120 Gallons
Liters: 4,240 Liters
Height: 104″ | 264 cm
Width: 108″ | 274 cm
Length: 192″ | 488 cm
AwG-H100*
Peak Power: 105 kW
Humidity Range: 40-100%
24hr. Capacity: 1,400 Gallons
Liters: 5,300 Liters
Height: 104″ | 264 cm
Width: 108″ | 274 cm
Length: 192″ | 488 cm
AwG-H160*
Peak Power: 141 kW
Humidity Range: 40-100%
24hr. Capacity: 2,240 Gallons
Liters: 8,479 Liters
Height: 104″ | 254 cm
Width: 108″ | 229 cm
Length: 192″ | 488 cm
AwG-H200*
Peak Power: 148 kW
Humidity Range: 40-100%
24hr. Capacity: 3,300 Gallons
Liters: 12,474 Liters
Height: 94″ | 239 cm
Width: 90″ | 229 cm
Length: 192″ | 488 cm
AwG-H640*
Peak Power: 564 KW
Humidity Range: 40-100%
24hr. Capacity: 10,000 Gallons
Liters: 37,854 Liters
Height: 100″ | 254 cm
Width: 90″ | 229 cm
Length: 1032″ | 2,621 cm
---
*Information to be confirmed at time of purchase. Please note dimensions and specifications are accurate at the time written.  Subsequent improvements may be implemented at any time without notice which may change some specifications. It is imperative with each new order that current specifications must be verified with each new order. 
---
Optional Listing Available for More


OUR FILTERS ARE NSF CERTIFIED
AUTO-SHIP PROGRAM AVAILABLE
---
AwG-H1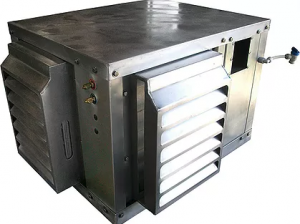 AwG-H3
AwG-H5
AwG-H10
AwG-H15
AwG-H80
AwG-H640
---
Key Features of AwG-H Series
Largest Atmospheric Water Generator in the World
Highly-inventive Technology including Pre-Heat Technology,
Energy-efficient Bitzer CSH Series Semi-hermetic Compact Screw Compressor Technology, and Allen-Bradley PLC Control
For use in Commercial, Residential, Marine, Industrial, Military, Farming and Agriculture, Water Supply, Irrigation, Drinking Water, Deployment, Disaster Relief Areas, and Water Plants
Programmable Logic Controller (PLC) is optional for AwG-50 and larger. PLC is a series of attachments for remote monitoring and diagnostics from the manufacturer's office.

It will alert in real-time either you or our factory of any situation with your water generator and communicate the problem to you as quickly as possible.
The computerized system will also assist the water generator in working at its highest performance in producing water.
With this (PLC) we will be capable of helping in any maintenance issues if one arrives and be able to assist the situation until it is resolved.
Also capable of notifying you if it's time to change the filter making this a simple and easy alternative then troubleshooting the situation manually.
Reducing the stress of solving a maintenance problem without the use of manpower to monitor the situation.
The PLC will overall increase reliability in your purchase knowing your system will be operating at constant watch for maintenance if any situation is to arrive.

The United States EPA's maximum contaminant level of total dissolved solids (TDS) for human consumption is 500 ppm.
Tap water typically has 160-170 ppm of total dissolved solids (TDS).
The AwG Generators produce water with only 20-25 ppm of total dissolved solids (TDS).
AwG production testing in a 24 Hours period in ambient air at 85° F; 70% Relative Humidity (Sea Level) which has a Water Vapor Density of 9 Grains per Cubic Foot of Moist Air. Increased production can result in ambient air higher temperatures or higher humidities.
Disclaimer: Daily production will be reduced as humidity levels drop closer to 40% Rh (AwG series) and 30% Rh (AwG-H series) and below.
Optional Features AwG series
Operational power requirements for each generator must be specified when the order is placed.
Generators that produce 750 gallons and up use the energy-efficient Bitzer CSH series semi-hermetic compact screw compressors.
AwG-H640